We are beginning our 11th year of helping families and individuals find that very special Golden Retriever puppy to join their lives. We are grateful for the loving, thoughtful people that have become part of our extended Paradise Goldens family and that our little guys and girls have become such a central part of each family's life. Golden Retrievers make an ideal family pet. Loyal, affectionate and intelligent, they bond closely with their human families. At Paradise Golden Retrievers, we are members in good standing of the Golden Retriever Club of America (GRCA), as well as the American Kennel Club (AKC) regarding our adult dogs and our puppies.
We have found loving family homes for our 'Puppies from Paradise' throughout Florida since 2005. We are proud that our puppies and dogs live in all areas of Florida, from Tallahassee to Jacksonville, to Orlando, the Florida Keys, Miami, Naples, Sarasota, and of course, our local Tampa Bay. Our location in Valrico, next to Brandon, is convenient for most families adding a Golden puppy to their lives. We have recently opened a second kennel outside of Raleigh, North Carolina, on a restored, historic plantation. This location is 30 minutes west of Greenville and situated on 300 acres.
Melissa Coleman, M.Ed., has been a special education teacher for 25 years before retiring and starting Paradise Golden Retrievers in 2005. She has owned and loved the breed for over 40 years. Hunting the fields of rural Pennsylvania with her father, she first appreciated the obedience and agility of a highly-skilled hunting Golden. She has been fortunate to witness a wide range of Golden Retriever activities - from the field and stream excellence in retrieving, to the beloved family companion, to the obedient and sensitive therapy and service dog. She comments, "Goldens have such huge hearts, they are also very intuitive and have an enormous desire to please their owners." Her goal is to pass along the joy that Goldens bring to others who also value and love the breed.
Many people purchasing a puppy have previously owned a Golden and need little introduction to their special qualities. To these people we say, "Welcome back to the wonderful world of Goldens!" For people new to the breed, you are in for a treat with Golden Retrievers! Golden Retrievers enrich lives in so many ways with their fun-loving, ball-retrieving and water-loving personalities! Their constant Golden "smile" is trademark!
For families with small children, Goldens are ranked at the top of the list for safety with interaction with children. Having raised Goldens with small children, we can attest that they happily tolerate the typical antics of climbing and gentle tugging which children lovingly 'heap' on them! It is a joy to see children and puppies grow up together.
Our goal is two-fold: to place each of our puppies in a loving, thoughtful home setting and know that the puppy will become a much-loved member of the family; and that the families who select our puppies will be enriched by the life of their Golden Retriever.
Puppy Purchasing
Purchasing a puppy requires thoughtful planning. Health, parental lineage and temperament, as well as environment, are all important factors in purchasing a puppy. Also important is selecting a breeder who will take time to answer questions before, during and after the puppy sale. Our Goldens have Champion AKC bloodlines and this is evident in their appearance and temperaments. At Paradise Golden Retrievers, we prioritize these factors so that purchasing a puppy is a positive experience for the entire family.
Puppy Payments
Puppy prices range from $1600 to $1800 and deposits are $495 (applied to the total price.) All deposits are refundable until the puppy is 6 weeks old. Deposits for puppy reservations, as well as balances, can be paid with credit cards using Paypal or by personal check by mail.
Email for a PayPal Payment Request and your reservation can be confirmed the same day.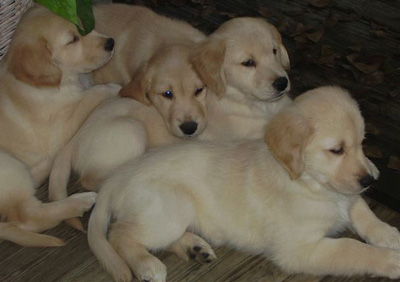 Health Clearances

Sterk Hart Tebow, our stud dog, has completed all of his health certifications - eyes, heart, hips and elbows. We are very pleased with his OFA "Good" hip rating. All females over two years of age in our breeding program have their OFA hip and elbow clearances or they are pending. With this parental certification, your puppy is destined to lead a happy and healthy life for many years to come! We have never had a puppy returned due to a health problem and credit this to our excellent breeding stock.
Special Honor for our Puppy Temperaments
The temperaments of our dogs can be described as gentle, obedient and affectionate. Paws with Purpose, an organization which provides companion dogs to disabled people, personally conducted standardized temperament testing on Ginger Snap, Shalimar and Daisy puppies, giving them excellent ratings. The puppies they purchased have continued to have great success in their training program and they have proved adaptable in a wide range of situations. Temperament is fundamentally important in selecting a puppy.
Purchasing a Puppy
Puppy purchases include the following:




"Hope/Tebow Puppy 2010"
Photo Credit: Monty Mathis

AKC Registration Papers (pet only)
Litter Certificate
Health Guarantee/Contract
State Health Certificate
Parental Pedigrees
OFA Parental Clearances
Weekly updates with photos on puppy's development
Puppy's first set of shots, vet exam
Deworming
and a warm bath before puppy comes home!